Contaminated Ground Water Treatment
There have been almost as many technological advances in ground water treatment in the past 30-years as there have been years. The cost of groundwater remediation is so great that much research time and funding has been devoted to finding faster, more cost-effective methodologies.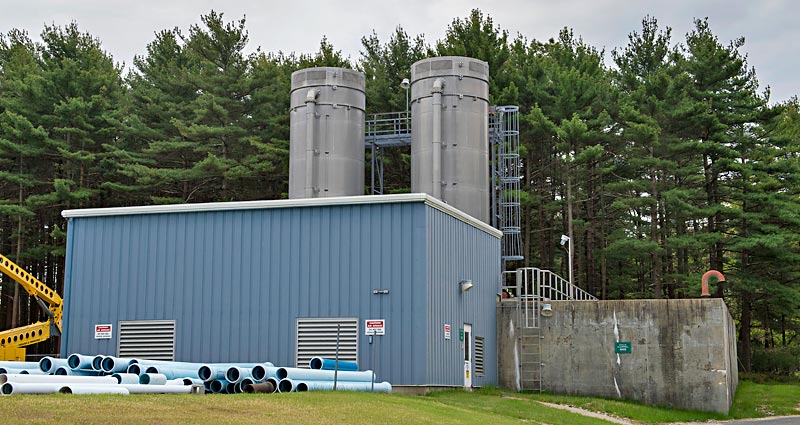 Common technologies used to treat contaminated groundwater include air stripping (above), air sparging, granulated, activated carbon absorption (GACA), oxygen-releasing compounds (ORCs), soil vapor extraction (SVE), and the old standby natural attenuation.
Groundwater Integrity Testing (all parameters)
In addition to drinking water testing, Federated Environmental offers groundwater testing for all of the same parameters tested for in drinking waters. In order to make a determination whether contamination exists on a property, or to determine is a property has been successfully remediated, it is necessary to test the groundwater for the known contamination. Groundwater samples can be taken from drinking water wells, monitoring wells, springs, pits, ponds, lagoons, and leachate or seeps areas. Federated Environmental  offers these specific testing services as needed.
Many states differ in their regulation of groundwater contamination. The variation in regulations is usually associated with kind of contamination, kind of property, and location of property. Many states simply approach each contamination case and make judgments based on a risk assessment of the property's condition, which includes the above factors among others. Federated Environmental has extensive experience in performing such risk-based assessments, and negotiating with regulatory agencies to determine the most cost-effective and expedient means to manage groundwater contamination problems. In some areas of the United States, significant groundwater contamination exists for many square miles (e.g., Phoenix, Arizona, Los Angeles, California, and others). Federated Environmental can develop and execute a specialized groundwater testing plan that will determine the identity, and thus the source, of contamination.
Sample Groundwater and Soil Vapor Remediation Projects
Project: Groundwater Remediation of Toluene, a regulated solvent
Client: Large Herbicide/Pesticide Manufacturer
Project Location: Chicago, Illinois
Under the Illinois "Self-Initiated Cleanup," Federated Environmental was hired to design, install, and monitor a groundwater remediation system to handle toluene contamination. Toluene is a regulated solvent and is commonly used in hundreds of chemical production processes. The contamination of the groundwater resulted from many years of herbicide/pesticide manufacturing activities rather than from a specific release incident. The system included a plate air stripper and a carbon polishing unit. Federated Environmental obtained all of the necessary air permits, discharge permits, and permits from the City of Chicago. The groundwater cleanup program included an operation plan for the plant personnel to use in case of emergencies or simple repairs. Based on our calculations, the system will be running until the year 2007.
Project: Groundwater Remediation at Gasoline Station
Client: Property Development Limited Partnership
Project Location: Salisbury, Maryland
Most larger environmental companies have installed groundwater remediation systems at gasoline stations. However, what occurred at this site is interesting. Read on!
Federated Environmental was hired to design, install, and monitor a granulated activated carbon adsorption (GACA) groundwater remediation system at a gasoline station being upgraded to include a "quick stop" delicatessen and convenience store. The system was installed in 1989 and permitted to pump 24 hours a day (with a groundwater height on/off switch) for three years. After a year and a half of pumping, the test results seemed to indicate that the groundwater contamination concentrations were not dropping appreciably. However, by the third year of operation the total BTEX levels dropped precipitously and the State of Maryland granted permission to shut off and remove the system.
Within two weeks of getting closure from the State of Maryland and authorization to stop pumping, a gasoline station construction company broke a buried fiberglass gasoline transfer line while installing steel gas pump protection barriers. The break in the transfer line resulted in the loss of over 1,200-gallons of additional product.
Methane Gas Extraction System Design Inspection
Project: Quarterly Monitoring Plan Development for an Active/Passive Methane Gas Extraction System for a Shopping Center Built on Top of a Closed Municipal Landfill
Client: Property Development Limited Partnership
Project Location: Somerset, New Jersey
Federated Environmental was retained to develop a quarterly monitoring plan for an active/passive methane gas extraction system for a shopping center built on top of a closed municipal landfill. As part of the design specifications for the shopping center, the NJ Department of Environmental Protection required that an extraction system be installed as part of the construction. The system included passive methane gas ventilation shafts in the parking lot area and a system of slotted, 8" diameter PVC lines running in a grid pattern underneath the shopping center's concrete slab foundation. The active system included a series of intake and exhaust blowers located at the ends of the PVC lines that effectively removed subslab gasses by creating a partial vacuum. In addition, the system included a gas pump monitor with a multiplex analyzer, an alarm, gas monitoring circuitry, and a timing device to turn the roof-mounted blowers on and off on 4 hour cycles. Federated Environmental inspected the system and discovered the following problems:
Nearly half of the blowers were seized and inoperative from exposure to weather
The gas monitor system and multiplex analyzer was completely out of calibration
The multiplex analyzer was venting into the shopping center's electric room
The wood housing for the PVC lines had vehicular damage on the building exterior
Much of the blower wiring was damaged or had inoperative switches
Several of the blowers had damaged housing or sheet metal corrosion
Several blowers had faulty mounting pads and were missing drive belts
Federated Environmental developed a quarterly monitoring plan which addressed the aforementioned conditions as well as the following:
 Labeling of the sensor ports on the sequential analyzer
Checking sequential analyzer for proper sampling cycles
Inspect and/or replace sample pump
Recalibrate analyzer cell in multiplex analyzer
Test "Instant On" emergency switch
Inspect and test timer unit for regular on/off blower cycles
Inspect wiring and other fixtures for continuance of "gastight" condition
The New Jersey Department of Environmental Protection (NJDEP) required that Federated Environmental recommendations be completed.